Our Results
Our innovative approach to teaching and learning, our more immersive learning environment and our inspirational curriculum, based on real life projects contribute significantly to raising standards and improving pupils' personal, social and emotional development. This is reflected in our data over time. We are very proud of the achievements of our pupils at the end of the Early Years Foundation Stage and at the end of each Key Stage.
*Please note that in 2016 the Department for Education introduced a new robust national assessment system in line with the National Curriculum 2014. Whilst historic and current data cannot be compared directly, we have chosen to publish both in order for you to see the high outcomes of Alexander Hosea School.
Early Years Foundation Stage
Children reaching a Good Level of Development (GLD) i.e. achieving expected level in the early learning goals (ELG) in Prime Areas (personal, social and emotional development; physical development; communication and language) and ELG Specific Areas of mathematics and literacy.
| | | | | | |
| --- | --- | --- | --- | --- | --- |
| | 2014 | 2015 | 2016 | 2017 | 2018 |
| School Data | 77% | 83% | 97% | 89% | 96% |
| National Data | | | 69% | 71% | 72% |
* Effect of one pupil : 2014 = 3%, 2015 = 4%, 2016 = 3%, 2017 = 3% and 2018 = 4%
Year 1 Phonics
| | 2014 | 2015 | 2016 | 2017 | 2018 |
| --- | --- | --- | --- | --- | --- |
| School percentage of pupils achieving threshold | 92% | 89% | 100% | 97% | 90% |
| National | | | 81% | 81% | 83% |
Effect of one pupil: 2014 = 4%, 2015 = 4%, 2016 = 4%, 2017 = 3% and 2018 = 3%
Year 2 Phonics 2018 - 100% achieved the threshold (national 61%)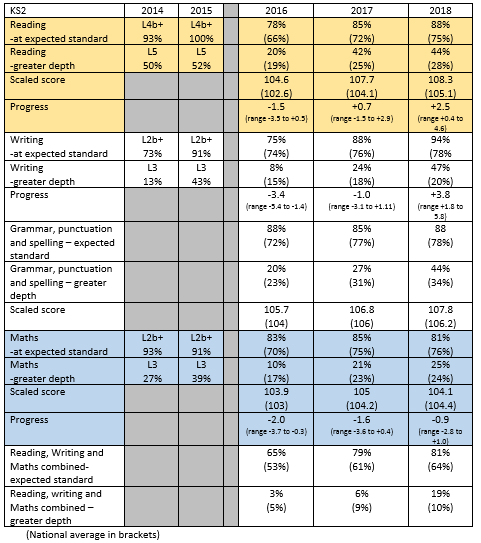 Please click here to access the DfE School Performance Tables Website